Services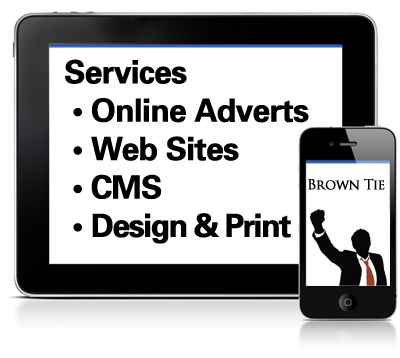 With just one call to Brown Tie you can be assured of detailed attention to your requirements and a service that delivers what it promises.
When running a business focusing on image matters and promotion might seem like a distraction. But in order to get more turnover you need potential customers to be made aware of what you do. A brand marketing campaigns is as essential for a small business as it is for the biggest companies.
Brown Tie external marketing services start with the basics of Logo Design right through to direct marketing, advertising on or offline and signage. Our approach allows you to promote your message on the national, local and personal media.
For example our web based banner advertising packages allow you to scale any online campaign to your needs. Using established networks, you can control the demographic of who you want to see your advert, the times you want it promoted and the length of the campaign. You can also use interactive banners adverts where the user can submit contact details or interact with your own online site directly.
We also design and implement web sites which you can control (WordPress, Joomla or Drupal content management systems) thereby allowing you to alter any content as circumstances require it. The flexibility of these content management systems allow you to tailor the functionality of a site to your requirements. Brown Tie can develop an on line solution to expand the capability and reach of your business.
Brown Tie also takes care of traditional print and design. With just one call you will quickly see a return on your investment through a higher local profile and new customers.